Sometimes android smartphone has stuck to error getting, mostly to we have open the apps or browser and sometimes downloading new apps or updating apps on Android at a time occurring some error like SSL Connection Failed, System.android.sil3g, Obtaining IP Address Error. And you are trying to fix this error on your smartphone. But you can't fix it. So do not worry about, here I will show you how to fix SSL Connection Error in Google Chrome, Firefox, UC Browser on your android devices. Just follow the simple methods of getting a good solution for your android.
Solution For Fix SSL Connection Errors In Android
When you get an SSL Certificate error message on your Android phone there are several ways you can go about fixing the issue. We'll list five possible solutions. If one doesn't work, try the next. Eventually, you'll have the problem corrected. Also you see this best ssl certificate providers for your Website.
Solution 1: Set Correct Time and Date
Sometimes, it happens that your Android device's time and date do not match the right time of the server. So in this case, you may get SSL Connection Errors. At that time you want to fix this issue like you need to change your time and date and set-up correct one.
Go to Settings> Date & Time> turn ON the Automatic date & time function.
After Save the change, and close all tabs and restart your android phone.
Solutions 2: Reset App Preferences
If above solution didn't work it then checks to the second solution is to Reset App Preferences. It can be reset all app settings. You don't need to worry about your app data; you won't lose it.
Go to Settings> Apps> Tap an on Menu icon and then "Reset App Preferences."
Tap on "Reset App" to confirm reset all app preference.
Solutions 3: Clear Cache and data on Chrome Browser
Clear cache and data are your recent activate to store data form in your Chrome Browser. And it can make loading time faster in chrome, further if you need to more about check what is cache and data then go here.
This is another Easy solution. Start by opening Chrome and Clear Cache and date. So follow below steps:
Just Go to Settings> tap on Apps> Scroll down and Tap on Chrome Browser.
Now, tap on Storage→ Tap on "Clear cache" and "Clear data."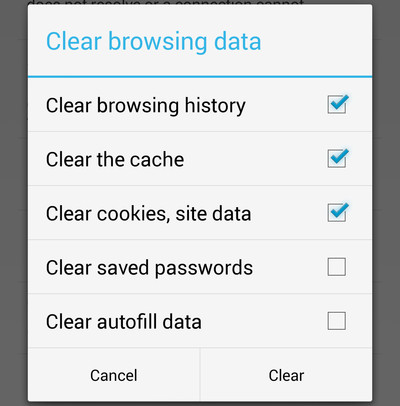 Reboot your phone, and you won't see the error anymore.
Another Way like, just opening Chrome and then pressing "Menu"> Go to "Privacy" and select "Settings." Then choose "Clear Browsing Data." Check all the boxes on the screen and then hit "Clear."
Solutions 4: Change WiFi Connection
After Clear cache and data, you need to change your wifi connection, so you get the possible solution. You may be on public WiFi which is scandalously unsecure. Find a private WiFi connection and see if the Android error is fixed.
Solution 5: Turn off Antivirus Protection
Unfortunately, even your antivirus or security apps can block and cause some SSL connection failure. So we need to turn off and then start browsing again temporarily. Make sure your Anti-Virus provider in a way that causes the SSL connection to fail.
Solution 6: Complete Factory Data Reset
This is the most common solution to fix your solutions. Factory Data Reset is to be deleting your all data and restarting all software data, and you get a newly purchased phone. So before your Factory reset your Android, you need to backup your all the data. Because, it will be deleting all system caches, junks, and reset settings. Thus, if you have tried all above solutions and they are not effective to solve the SSL Connection Error of Google Chrome, then try out this method.
First of all, Go to the Settings app on your Android phone.
Scroll down and tap on "Backup & reset."
Tap on "Factory data reset" and then tap again to Reset Phone.
Once it's done, you will get newly purchased your Android smartphone. Launch the Chrome, and you won't see the SSL Connection Error again on your screen.
Well, these all these critical solutions can help you to get clear of irritating "Error retrieving information from server SSL Connection Error issue and hope these solutions worked and you fixed the problem.